Dishwasher Repair
Dishwashers are supposed to make post-mealtime cleanup easier, not more complicated! If your dishwasher leaves bits of food stuck to plates or leaks all over your floor, you may find yourself stuck washing dishes by hand. Taking the time to scrub every fork and bowl is time-consuming and frequently inefficient, not to mention tough on your skin. If you want to save time, maintain a sanitary kitchen, and enjoy the convenience that your dishwasher was meant to bring, call Conner & Sons Repair today. Located in Madison Heights, our dishwasher repair services team provides the Detroit area with accurate diagnostics and sturdy repairs at honest and reasonable prices.
No two dishwasher repair jobs are exactly the same. Each model has its own particular design that makes dishwasher repairs a job best left to experienced professionals like the technicians at Conner & Sons Repair. Our dishwasher repair service team is versatile. Whether you want dishwasher rack repair or need to have a faulty float switch replaced, we are prepared and equipped to perform repairs on a variety of brands. From Bosch dishwasher repair to Maytag dishwasher repair, you'll see quality results that can stand the test of time and heavy use.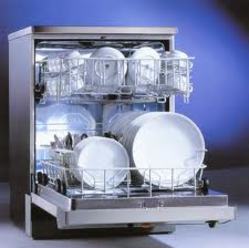 Some common complaints our dishwashers repair team addresses include:
Dishwasher won't drain or fill
Unit will not turn on
Appliance leaks
Unit emits an unpleasant odor
Dishes aren't cleaned
Water will not reach desired temperature
Most people tend not to regard their appliances as complex machines, but think about it: your dishwasher is connected to electrical wiring, as well as water and wastewater lines. There are also myriad dials, switches, and timers controlling when your unit fills, raises the water temperature, changes cycles, and more. Considering all of these details, it's clear that professional dishwasher repairs are your best bet when you want to restore convenience to your mealtime cleanup. Conner & Sons Repair will be able to pinpoint the source of your trouble and provide solutions that are both speedy and effective.
Commercial Dishwasher Repair
Our skills extend outside typical residential dishwashers repairs! We also perform dishwasher repair in restaurants, hotels, and other commercial settings. Sanitized, picture-perfect dishes are extra important in a business setting, as customer satisfaction—and your reputation—is at stake. Keep your kitchen running smoothly and safely by calling Conner & Sons Repair the moment you notice anything objectionable about the way your dishwasher operates. Quick action could save you from having to make more costly dishwasher repairs later on! Additionally, dishwasher repair service may be necessary to ensure that your commercial kitchen meets local health codes and remains a safe environment to work in. When you need commercial dishwasher repair, we can get the job done quickly and correctly, so contact us today to get started.
Conner & Sons Repair does not charge a service fee and provides all customers with free dishwashers repair estimates. Pick up the phone or send us an e-mail and get to the bottom of your dishwasher repair problem ASAP!
Dishwasher Rack Repair
Dishwasher Repair Service
Dishwasher Repairs