Refrigerator Repair
How many times a day, on average, do you or family members open your refrigerator? You probably can't even come close to making a confident guess. That just goes to show you how much we rely on our refrigerators. Unlike other appliances, which are only in use when they are manually switched on, the refrigerator works around the clock to keep our food fresh. Considering that, it's a wonder that refrigerators don't break down more often!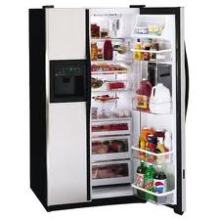 When your refrigerator begins to show signs of a malfunction, such as hissing, leaking, or insufficient cooling, timely refrigerator repairs are important to avoid massive food spoilage. Call Conner & Sons Repair the moment you suspect that you require expert refrigeration repair. From replacing your thermostat controller to installing a new door switch, we will do what it takes to restore full function to your refrigerator and make sure you're 100% satisfied with your appliance's performance. We can also perform refrigerator freezer repair and refrigerator ice maker repair. For full-service refrigerator repair in the greater Detroit area, Conner & Sons Repair is the professional for the job.
If you want to enjoy great craftsmanship without paying exorbitant fees, Conner & Sons Repair is the refrigerator repair service for you. We stay abreast of all of the latest industry techniques and trends and only use industry-approved replacement refrigerator repair parts so we can continue to deliver the best possible service to every customer. We also have the training and experience to work on a wide variety of major refrigerator brands, from Maytag refrigerator repair to GE refrigerator repair. No matter what kind of refrigerator you have, you can trust Conner & Sons Repair to quickly diagnose the issue and find a solution that will restore impeccable refrigeration service to your kitchen.
Amateur refrigerator repairs often wind up causing more damages, so throw away that dusty old refrigerator repair manual and call Conner & Sons Repair today. You can expect nothing less than long-lasting results and the utmost professionalism from our refrigerator repair service team. And with our free estimates, you have nothing to lose. Contact us by phone or e-mail now!
Commercial Refrigerator Repair
Conner & Sons Repair also provides commercial refrigerator repair to hotels, restaurants, and other businesses in Madison Heights and the surrounding communities. Keeping on top of your refrigeration repair needs is a great way to maintain a productive working environment, stay in compliance with health code regulations, and ensure that every meal your kitchen produces is of the very best quality.
For free estimates, fair prices, and the professional services of a dedicated refrigeration repair team, call Conner & Sons Repair today! We do not charge service fees and are available 24/7 to perform refrigerator repairs in case you have an urgent need. Now that's service!
Refrigeration Repair
Refridgerator Repair
Refrigerators Repair