Washing Machine Repair
Have you noticed that your washing machine has begun to leak, make strange noises, or have issues moving between cycles? Don't ignore these symptoms—they could be indicative of a larger problem in the making. If you think your household is busy now, imagine how hectic it would be without your washing machine! In addition to all of your other chores, you'd also be stuck heading out to the laundromat or scrubbing your clothes by hand. Don't let that happen. Call Conner & Sons Repair the moment you suspect that you require washing machine repairs. Located in Madison Heights, we serve Detroit, Warren, and environs, and we put our extensive washer dryer repair expertise to work for you.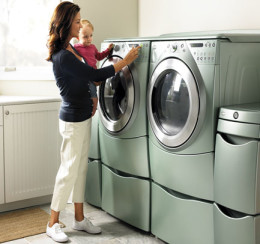 Many people falsely believe that purchasing a replacement washing machine is a better choice than calling in a washing machine repair professional. The truth is that a washer dryer repair specialist can have your unit back in like-new condition for a fraction of the price of an entirely new machine. Washer and dryer repair is also typically faster and more convenient than purchasing a replacement. If your washer is broken, don't waste time driving to the store, picking out a suitable new machine, and going through the delivery and installation process. All you have to do is pick up the phone and call Conner & Sons Repair. We can examine your appliance free of charge, diagnose the source of your problem, and provide quality solutions. All washing machines repairs performed by Conner & Sons Repair are completed using the most up-to-date techniques and professional-quality tools.
Washing machines are surprisingly complicated, but at Conner & Sons Repair, we know those valves and pulleys like the back of our hands. Our washing machines repair professionals have more than 25 years of field experience. From lid switches to motors, there is no part of your washing machine that we can't repair or replace. We can even educate you on how the problem probably happened and give you maintenance tips that will help prevent similar issues in the future. Some common problems that require washing machine repairs are when the:
Unit leaks
Tub will not spin
Water will not fill or drain
Unit will not start
Water will not reach correct temperatures
Appliance will not cycle properly
Conner & Sons Repair can attend to washing machines of many popular models and brands. Call us for GE washing machine repair, Maytag washing machine repair, stacked washer dryer repair, and more.
Commercial Washing Machine Repair
Our washing machine repair service is not limited to Madison Heights-area homes. We also proudly provide local businesses with the same quality service, so business owners can stop worrying about their washing machines and start doing what they do best—taking care of their customers. We can troubleshoot and repair coin-operated and commercial-sized washers and have your laundry room operating properly again in no time. We provide washing machines repairs for:
Laundromats
Hotels
Dormitories
Hospitals
Restaurants
And many other establishments
At Conner & Sons Repair, we strive to bring you long-lasting washer and dryer repairs at unbeatable prices. Unlike our competitors, we never charge service fees and always provide free estimates. We believe that our customers deserve honesty, quality, and respect. When you call us, that's exactly what you'll get.
Washing Machine Repairs
Washer Repair
Washing Machines Repairs